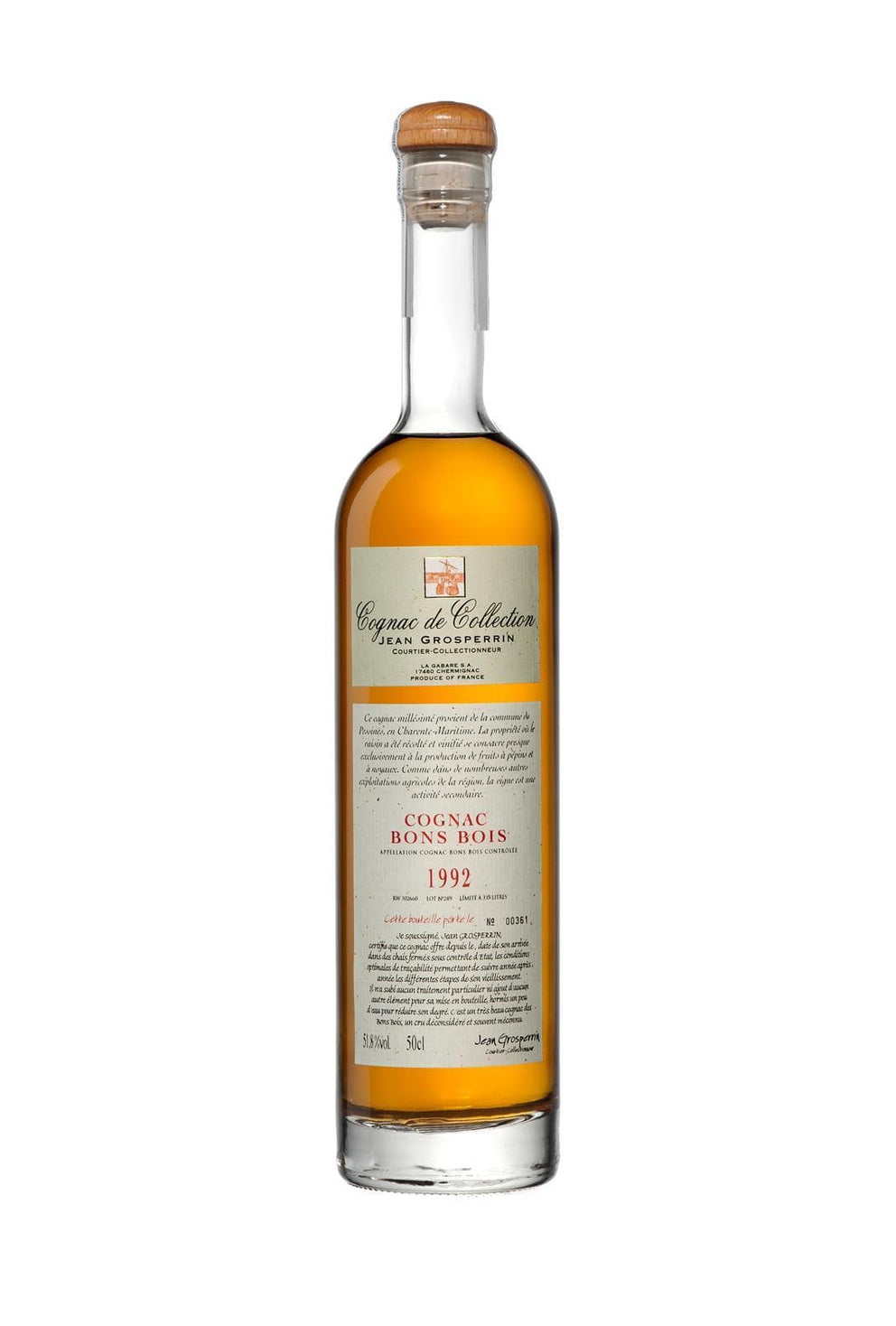 Grosperrin 'Cognac De Collection' 1992 Bons Bois 52% 500ml
$203.00
This vintage Cognac comes from a small fruit farm situated in the area of Saintes, a few kilometers from the eponym city. Starting in 1971 with 10 hectares of apple tree, this farm owns now about 100 hectares of fruit trees, and only a few of hectares of vine. This hardy terroir, made of clay and loam, is not claiming to be the best for vine growing. However, a good culture of the vine, a fine distillation, and quality aging, make this cognac powerful and balanced, more and more sought after by the amateurs. Young gold robe. In the nose, aromas of rumbaba, currants, and orange peel. Powerful, we can feel kind of a heaviness (Clay). One has to let the glass at the air, to experience more light and green notes like grape stalk, clove. Breath of salty air.In the mouth we find the nose, with a certain power at the beginning. The wood is well balanced. Very light dryness on final, because of recent water reduction (goes very quickly) . A beautiful delicacy, cognac easily accessible.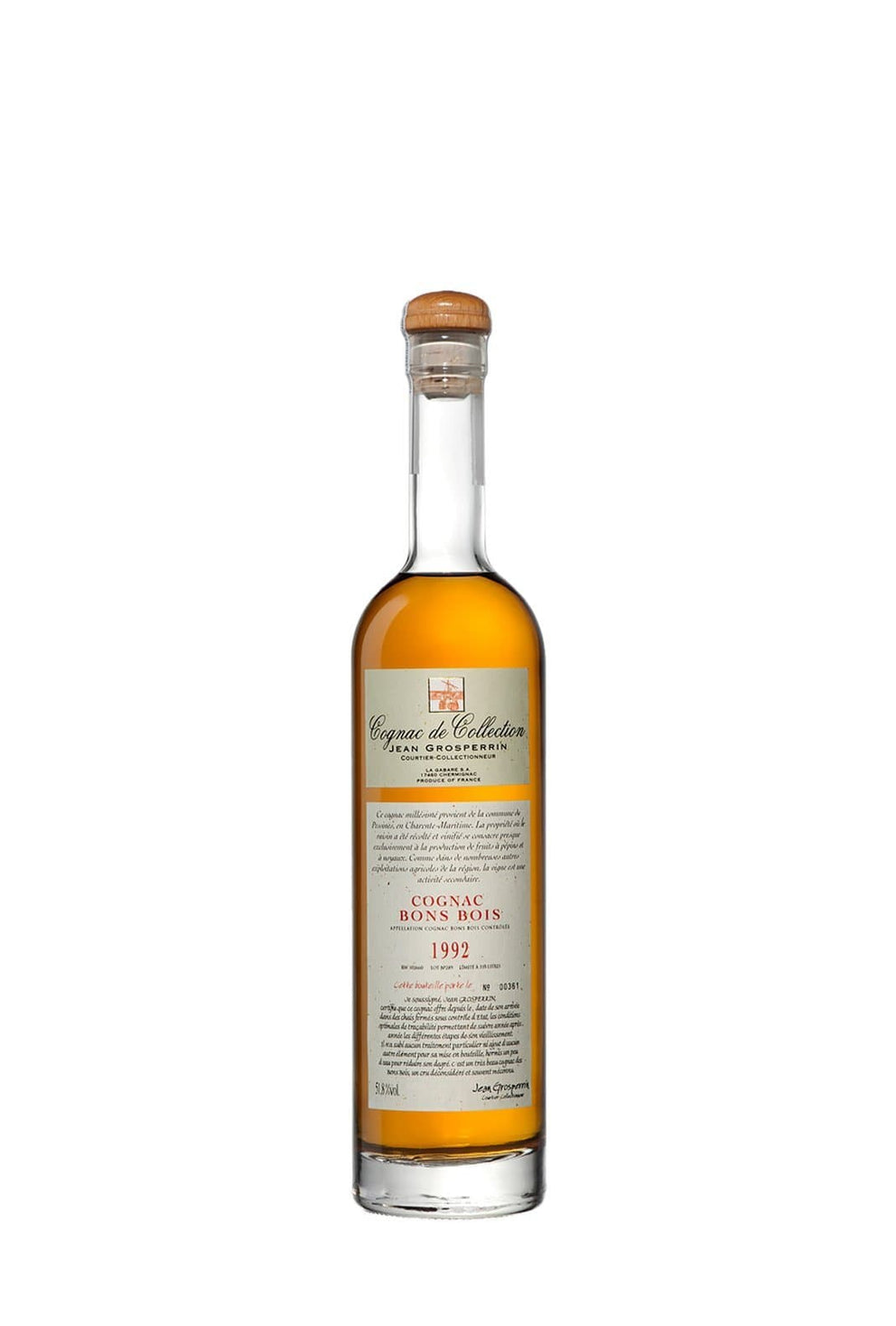 Grosperrin 1992 Bons Bois Cognac 51.5% 350ml
$172.00
This vintage Cognac comes from a fruit farm located in Saintonge. Having started in 1971 with 10 hectares of apple trees, this farm now has some 100 hectares of fruit trees and only a few hectares of vines. This rustic terroir, made up of clays and marls, is reputed not to be suitable for viticulture. However, good management of the vines, careful distillation and quality aging manage to give these Cognacs a distinctive, powerful and balanced character, more and more sought after by amateurs. Tasting Notes: Golden colour. On the nose, sweet aromas of rum baba, currants and orange peels. You have to let the glass air out to perceive more airy and vegetal notes, such as grapes and cloves. Beautiful puffs of salty air that make you salivate. In the mouth, a power contained in the attack. Thanks to a very slow reduction, the mouth became oily, the reduction does not feel.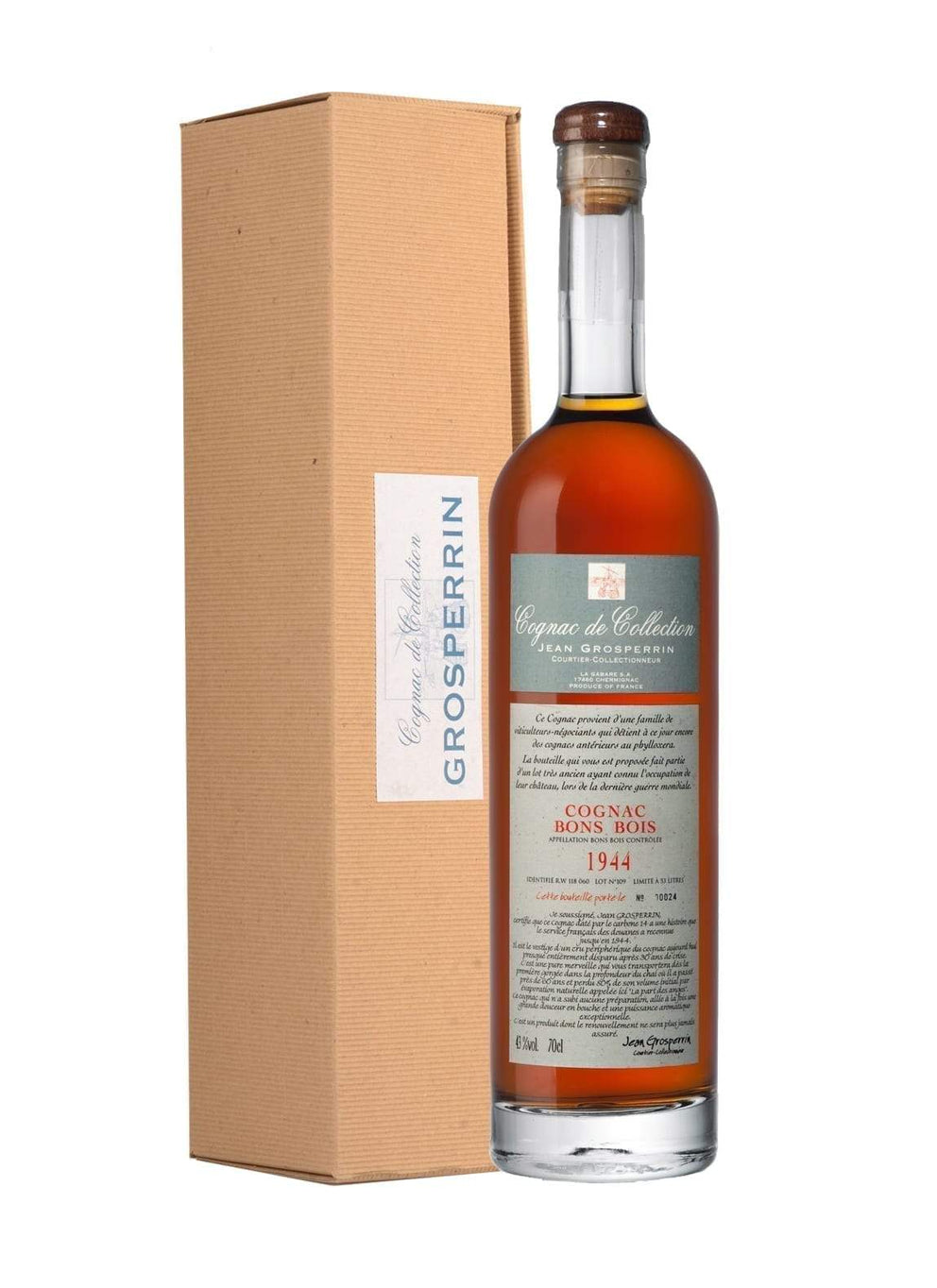 Grosperrin 'Cognac De Collection' 1944 aged 60 years+ Bons Bois 42.7% 700ml
$2,528.00
This cognac comes from the family property of the cognac merchant who sold it to us. It remained in the same family for 60 years, stored at its original location, a huge paved cellar, until we transferred it to government-controlled cellars in 1999. The owner's chateau was occupied by the German Wehrmacht and the archives dispersed at the end of the war, making it impossible to prove it dates back to before 1944. The end of the war brought with it widespread pillaging, both by occupying forces and local inhabitants This cognac's lightness and delicate aromas make it atypical for its cru. It, therefore, most certainly comes from a limestone soil. Surprising vitality yet softness and roundness, and an unforgettable prune palate. This is proof that even smaller crus can produce wonders! Deep amber colour. The nose of very old Cognac, the finesse of rancio. On the palate, atypical in its vintage for its lightness and density. An astonishing vitality, all smooth and round as well as a prune mouthfeel that will stay in your memory for a long time. The "small wines" also have their wonders! 94/100, Livets Goda (Sweden, 2008). " I have never tasted such an old Bons Bois before; there is a perfect resemblance to certain ports, but while still being able to deliver an almost unfathomable fruity freshness  ". Drink Spirits (USA), 2011.
Frequently Asked Questions About Bons Bois